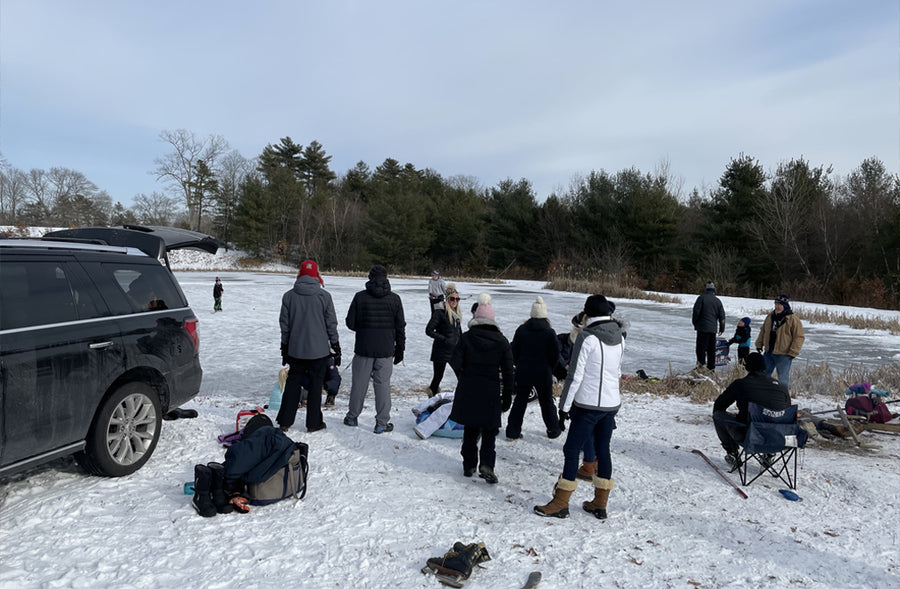 Sunday I took Henry ice skating for the first time ever. I grew up playing hockey and I started skating when I was around 2-3 years old. Henry is now 3 and I have been excited to get him out on the ice. However with COVID, there hasn't been many options to get him into a rink. Finally the ponds froze here in Massachusetts, and I was able to bring him out skating.
If you have every taken a kid skating for their first time, you know that they don't do much skating and you are stuck bent over holding your kid up while they glide across the ice. Within in minutes your back and legs ache from propping your kid up.
After carrying Henry and gliding him across the ice for 20 minutes or so. He turned to me and said "Let me go". He wanted to try to stand by himself. I was completely impressed, his first time on the ice he was able to stand in skates with no help. Then he started taking steps. I couldn't believe it, not only was he able to stand up on skates without falling, he was now moving in his skates on ice. It couldn't have gone any better.
We returned to our house early afternoon. I had a late breakfast and I wasn't really hungry for lunch. I was just feeling a little off, feeling a little nauseous. I was also sore and tired from helping Henry skate. I just didn't feel like I could stomach lunch at that point.
So I sat down at the kitchen table and decided to start packaging up sample packs of the Peppermint Therapy Dough (still working through the incredible amount of requests I had for samples). Almost immediately I felt better. I no longer felt nauseous and I generally just felt better. I couldn't believe it. Playing with the Peppermint Aromatherapy Dough really made me feel better.
There have been some studies showing the benefits of Peppermint Aromatherapy. There have also been many personal reports of people saying they feel better after using Peppermint Oils. Here is an article from Healthline that highlights studies looking at the effectiveness of using Peppermint Oils to treat different type of ailments:
https://www.healthline.com/health/benefits-of-peppermint-oil
I have also started to receive many reviews from people who have tried a sample of the Peppermint Soothe Therapy Dough:
"Very soothing product with an incredible smell. Had a migraine and it went away. Great product" – A.G.
"This product is great!! I love how it calms me down and allows me to concentrate during my work meetings." – Wanda
"Love it! Has a nice smell and texture. Found myself playing with this for a long time, definitely relaxing!" – Shannon
"Thank you so much for the sample, it also seems to lighten my headache!" - Tabitha
"I could smell this as soon as I opened the package! I had been suffering from an migraine and I opened this and started to just play with it and roll it between my fingers and hands and it helped me take my mind off the migraine!" - Jess
See more reviews here: 
https://shopsoothe.com/products/soothe-therapy-dough-peppermint-4oz (scroll to the bottom of the page)
I was pleasantly surprised Sunday when I immediately started feeling better after playing the with dough. As it turns out many people have experienced similar effects to me with this product! I hope you do too!